Remembering Karen Loss
Last updated: November 2020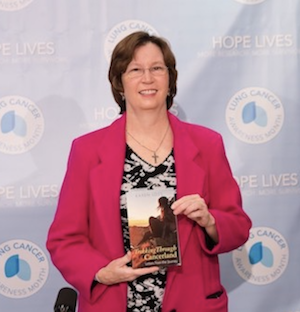 We are incredibly saddened to share that LungCancer.net team member Karen Loss passed away on June 8, 2019. Karen had been living with stage IV lung cancer for the past 6 years. She will be remembered, and missed, by all who knew her, and her tireless advocacy work will have a continuing impact on the community.
Finding her calling in advocacy
We are lucky that in addition to her numerous additional advocacy efforts, Karen chose to share many of her thoughts, experiences, and her advocacy work with us on LungCancer.net. Her writing and all of her efforts will to continue to help the community. Some of her writing can be found at the below links; a full list of her articles can be found here.
Wanna Know What REALLY Aggravates Lung Cancer Advocates?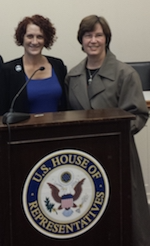 "I met Karen at Hope Summit 5 years ago. She let me stay in her guest room for 2 days once while her and I did an advocacy thing in DC. We sat up late one night while she showed me her paintings, some modeling pictures when she was younger, and all her kids she sponsored in other countries so they could get an education. She was a very well- round and cultured woman. She also helped us plan the 2 Life And Breath rallies. Her input was always helpful and she was a very straight forward person. She was special."
From Denise Cutlip:
"Last year at the Hope Summit... Karen talked about struggling to overcome profound shyness to pursue advocacy. I was dumbstruck, she always seemed so confident, articulate and cool. This year our correspondence was centered around baseball opening day and our respective home openers. She was truly an inspiration."
From Donna Fernandez: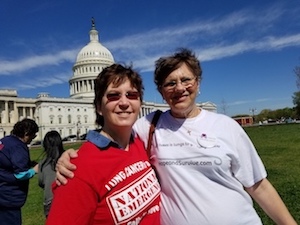 "I don't really know where to find the right words to memorialize Karen's life. She was smart, funny, witty, talented ... loving, compassionate, honest, and a great friend. She said in an interview I read that she finally found her life's calling after she got lung cancer - to be an advocate for funding and awareness. And, boy oh boy, did she fulfill that calling!
She was a devout Christian. Her faith guided her every step, which is one reason she was such an awesome person. She said often that quality of life was more important than quantity ... and lately, her quality of life had been going downhill.
So, while I am shedding tears today over the fact that she has moved her address to Paradise, for her, I am rejoicing that she is no longer in pain."
Donna also recommends this interview with Karen.
From Dusty Donaldson: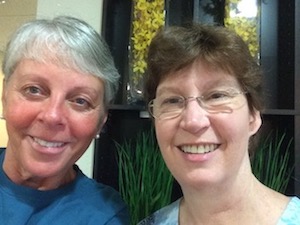 "'This isn't a game to us,' Karen said Nov. 2, 2017 on the Capitol grounds. 'It's life and death. And too many of us are already dead. That's why there's only 150 of us here. You know why so few lung cancer patients speak out? It is because they're dead. I'm not going to pussyfoot around….If we leveled the entire House of Representatives that's how many people die every single day of our disease….It's time to hear us and to act….We need more funding and we need it now—for research,' Karen rallied. 'There's no choice in this. There's no time to wait because, you know what? We're out here dying. Normally, I'm a nice, calm gentle, friendly soul. But I have had it up to my eyeballs with this.'
Karen was an amazing lung cancer advocate. But she was also an interesting and wonderful person aside from her advocacy. She loved animals and even had created a successful dog walking business. She was a person of deep faith, a faith we share. She loved adventure and was always kind. I miss her but am grateful to have known her and greatly comforted in knowing she is no longer suffering. I am a better person for having known Karen Loss."
Read more from Dusty on Karen here.
From Alisa Brenes:
"I'm just heartbroken. I knew Karen from Hope Summit and through Facebook support pages, but I really got to know her at Connexion 2018 and I am so grateful [for] that honor and pleasure."
From Shelley, TheLongPointGirl:
Karen is pictured here with fellow LungCancer.net advocates Dusty Donaldson and Donna Fernandez. Type2Diabetes.com advocate TheLongPointGirl says, "These three great ladies knew I was on my own at [advocate conference] Connexion 2018. They invited me to spend time with them."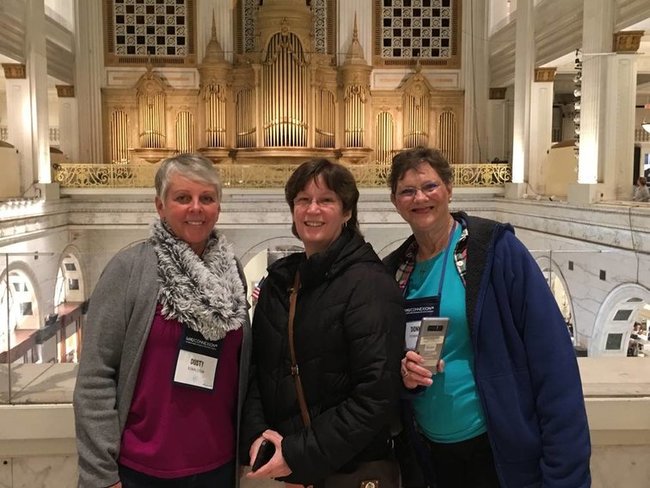 Join us in remembering Karen
We know that Karen's writing, advocacy efforts, and compassion touched so many in the community. If you would like to share any memories or stories about Karen, please visit our memory wall, or comment below.

Community Poll
Beside manner matters! What has your experience been?