Denise Cutlip
Last updated: December 2020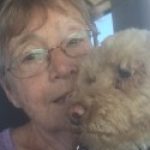 In October of 2010 Denise was diagnosed with stage 4 Adenocarcinoma of the Lung. At that time they told her she might live 10-15 months with aggressive treatments. Fortunately, they didn't tell her when to start counting those months.
Genomic testing was not Standard of Care when Denise was diagnosed and she had no idea what her driving mutation is. Fortunately, she had a tremendous response to concurrent chemo and radiation. She has not yet experienced any progression. What she's experienced is several long term side effects of both treatments and side effects caused by management of those side effects.
Both of Denise's parents died from lung cancer; her dad of mesothelioma in 1967, her mom in 2006 from adenocarcinoma. Lung cancer has also claimed the lives of an uncle and her stepbrother.
To this day Denise can recall the overwhelming helplessness her siblings and she felt when their mom was diagnosed. Now she was putting them through the same thing. Remembering that helplessness she felt when her mom was diagnosed she started searching the internet to inform and empower herself. There she found patient to patient message boards that shared information dealing with issues surrounding treatment, side effects, and all aspects of survival.
Being able to sort the good information from junk science became an obsession. So did reaching out to help others who were newly diagnosed. To that end, she signed up for newsletters from the nation's best-known cancer centers. As she gained knowledge and vocabulary she signed up for newsletters from the National Cancer Institute, Journal of Clinical Oncology, New England Journal of Medicine, American Society of Clinical Oncology, Oncologist, and any medical journal that would permit non physicians to receive the abstracts. Denise attends 2-3 patient education/advocacy events annually, looking for her next possible treatment in the event she experiences progression.
Click here to read all of Denise's articles on LungCancer.net.