Me? Lung Cancer?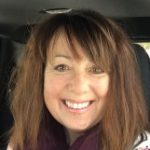 By jfsandow

·

February 10, 2019
My story begins in August of 2017. I 'was' a busy 51 year old mom of 6, ages ranging from 33 to 11 and grandmother of 1 beautiful 8 year old girl. All but 2 of our children are out on their own. I worked full time for a manufacturing company as the office manager and wearing many hats including keeping their accounting in order, which had always been a challenge due to the fact that I was pretty much the only person there that understood the whats and whys of how accounting works.
I started having a persistent cough in July which led to extreme fatigue. I finally decided after a few weeks to go get checked out. I was admitted to the hospital with a diagnosis of pneumonia. They drained 2 liters of fluid off my right lung and kept me hooked up to an antibiotic. I was released after 4 days but still not feeling the greatest.
I ended up back in the ER a week later and they drained 2 more liters of fluid from the same lung. It was at that time I was told my previous fluid had been tested and came back positive with Adenocarcinoma Non Small Cell Cancer and that I had a mass in my lower lobe. Lung cancer? Me? I didn't smoke but grew up with both parents that were smokers and lots of friends through the years that did.
The next few weeks were a complete blur. I had various tests and a PET scan that confirmed Stage IV with a spot on my L1 vertebrae, 2 small cancerous lymph nodes and a malignant pleural effusion. It was at that point I lost all hope and went into a deep state of depression and even started to think about my own funeral. My husband went to every appointment and still does. He has been my rock and ears when I shook my head in disbelief. He has always cheered me on even on my darkest days. My whole family does…
I started 4 rounds of heavy chemo in October and prayed several times to just pass in my sleep. I have never been one to take much more than Tylenol and I felt close to death on this treatment. I cried every time I had to go in and I lost 30 lbs, which I really didn't need to lose. I went through all the emotions of someone that had recently lost a loved one.
Christmas came and I will never forget crying and wondering if I would see another one. The greatest part of that Christmas was that my oldest son got engaged. I didn't think he ever would settle down but my 6' 7" gentle giant found love in that of a barely 5' amazing woman. As happy as that news was, I cried. Would I get to be part of it?
Once I got through with the 4 rounds I started a maintenance chemo every 4 weeks in January of 2018. Scan results showed the mass was gone, the fluid was significantly less and the 2 lymph nodes were smaller. All good news but I still had to be on chemo. Not good. I ended up back in the hospital in February for 6 days with pneumonia and a side effect from a bone medicine that I had recently received that depleted all my magnesium and potassium.
It was at this time we made the decision to visit CTCA in Chicago for a second opinion. After 5 long days of tests I was told I was on the right path but that I was also eligible for immunotherapy…but because the chemo was working they wouldn't advise changing anything just yet. I also had more scans that came back better than the previous ones.
It was around that time I received I would be a grandma again from my second son. Amazing but again, I cried. Would I get to enjoy the sound of a newborn cry?
I started to pray harder and harder and with each scan, things have gotten better! I know what to expect. I know that the first week after treatment, count me out. I witnessed the birth of my second granddaughter in September and she has my name as her middle name. Yet another moment of tears but happy ones. And I danced the night away at my son's wedding in October. I even got to take a 7 week chemo break and felt awesome!!
The best news was that a week before the wedding we found out the bride was expecting and my second son that recently had the baby got engaged to my beautiful granddaughter's mom. Did I forget to mention she already had 3 little ones from a previous marriage? So I became an instant Mimi to 3 more grandbabies…Yes, they all call me MiMi and I just love it!
Christmas came again but this time, no tears of sadness..only tears of joy! I made it!!!
So…long story short, haha, even with all the trials and throwing of darts at the wall of this disease, which I normally refer to as a roller coaster ride, I have become reluctantly adjusted to my 'new' life. I'm definitely not saying it isn't frustrating at times but I see things so very differently. I do not take one single moment for granted. I am truly blessed with an amazing family and friends and a job where the employees are like my family and I can come and go whenever I feel up to it. I work from home usually the first 2 weeks and then am able to go into the office and stir things up, as I like to say.
I recently had another scan and the only thing showing in my lung is scar tissue. No fluid or anything suspicious at all. The spot in my L1 hasn't changed from the start and my doctor said it could very well be healing bone. She also told me that at this point, I have very little cancer in my body. The only reason I continue on chemo is to keep things at bay. At my last chemo treatment on the 4th of this month my bloodwork came back excellent! Usually I have 4-5 things that are off but this time only 1 and it was only .02 lower than normal range. Pretty awesome feeling!!!
For now, I will continue on the maintenance path until I say I want to take a break or something comes out that I can take to say bye bye Stage IV lung cancer!
I look forward to the birth of yet another grandchild in June and dancing the night away at another wedding in August!
I am in awe of the power of prayer and cant wait to be part of many more things in the future because I know without a doubt, I will still be here enjoying all the blessings surrounding me!
This article represents the opinions, thoughts, and experiences of the author; none of this content has been paid for by any advertiser. The LungCancer.net team does not recommend or endorse any products or treatments discussed herein. Learn more about how we maintain editorial integrity here.