The Life of a Caregiver of a Stage 4 Lung Cancer Patient
Last updated: October 2022
40 years ago (next year), with 5 children, 10 grandchildren, I found the Love of my life; my husband, soul mate, best friend on my darkest Days, father of our children, grandfather, ALL around Great Guy!
The cancer patient turned caregiver
I was at one time the one who had cancer, Ovarian germ cell, he at that time, in 1996 was my caregiver for 9 months while we went through grueling experimental chemotherapy at MD Anderson in Houston Texas. Originally, I was not small in size, but through my treatment, I went down to 89 pounds. We survived it, still to this day I have side effects from what we were experiencing at the time.
Life went on
Life went on in 1999 it was his turn to start to have ill health issues but being the man of the family (I never worked a day in my life) breadwinner, sole financial provider for ourselves and our children he worked on. He was Chief Engineer on two different Long liners in Alaska for two different years, certified mechanic with lots of credentials at Unocal 76 in California, Research and Development at Tracker Marine designing boats for many years, welder, able to do it ALL IF it was said IT couldn't be done! Accepted and succeeded in challenges above and beyond recognition. Soon it was his time to start feeling bad, bad enough to start seeing specialists...
The birthday 9-1-1 call
COPD, Emphysema Bronchiectasis, Pulmonary Fibrosis, Interstitial LUNGS, Diabetes, High Blood pressure, GERD, Ulcerative Colitis, Anxiety, Neuropathy, Degenerative Disk Disease, the list goes on, with time we we're told End Stage on the following diseases... Pulmonary Fibrosis, COPD, Emphysema, Bronchiectasis, Interstitial lungs BUT this year on his birthday we had to call 9-1-1. He took an ambulance ride to the hospital and stayed overnight.
At that time was Covid free he was released the next day BUT they saw suspiciousness on his CT scan then Thursday only 3 days later WE had to call for an ambulance again, this time 4 days in the hospital, COVID Pneumonia and from a Pet Scan diagnosed with cancer in his bones but didn't know 100 percent what kind or what stage? We scheduled to go to Ellis Fischel Cancer Center in Columbia for a Bone Biopsy and we went, had the Biopsy, and found ourselves waiting for the results.
Spindle Cell lung cancer
Very rare, highly aggressive, Stage 4, incurable, and not sure if treatment is an option. BUT weighing all the options, we will hear from the oncologist and radiology specialist soon. Columbia is a couple of hours away and they are expecting worse weather than us; we live at the Lake of the Ozarks in MO. He has half the battle won! He still has the will to live but watching his struggle is heartbreaking, to say the least. I try to remember always, we need to remain focused on ONE day at a time.
Hope and Love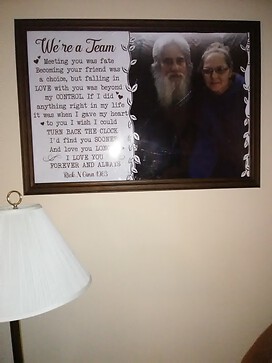 This article represents the opinions, thoughts, and experiences of the author; none of this content has been paid for by any advertiser. The LungCancer.net team does not recommend or endorse any products or treatments discussed herein. Learn more about how we maintain editorial integrity
here
.

Community Poll
Beside manner matters! What has your experience been?