My 17 year old nonsmoking, daughter has lung cancer
On 6th May 2016 my nonsmoking, 17 year old daughter was diagnosed with non small cell lung cancer. I remember my response but she's never smoked and she's been brought up in a household of nonsmokers. Kay started with a cough, and by the Easter of 2016 she was feeling breathless just walking to the bus stop near home. She went to the doctor a month before that diagnosis and was sent as an emergency straight to our local acute medical assessment unit as no breath sounds had been detected coming from the right side of her chest.
From a collapsed lung to a multitude of tests
Her right lung had collapsed and that day kicked off a multitude of tests x-ray, CT scan, heart echo, biopsy of her chest fluid called the pleural fluid, lymph node biopsy and she was fitted with a chest drain. The medical team were convinced cancer was the cause & a week later Kay was referred to our local cancer hospital to see an oncologist who specialized in cancer of unknown primary. Further testing finally concluded non small cell adenocarcinoma lung cancer.
Kay's first oncology appointment
Our first meeting with Kay's oncologist we were devastated to hear he could definitely make her feel better but he would not be able to get rid of it completely. Before chemotherapy was started, another biopsy was taken to aid him further down the line he explained. About a month later we learned Kay was ALK positive and we were told that would open a whole new option of treatments if Kay's cancer progressed.
Kay's treatment journey
Kay had 4 cycles of very brutal chemotherapy, followed by maintenance chemotherapy during this time she was able to return to college where she completed a level 3 in Health & Social Care. Progression in June 2017 started her on Crizotinib, a miracle tablet which allowed her to start University & move to student accommodation in Sheffield. That worked for about 18 months and her medical team suggested Brigatinib next, but treatment was slightly delayed until it was NICE approved. Kay started it in March 2019 and continued to live very well & study until she was told to shield by her oncologist in March 2020 due to the global pandemic.
This journey has not been easy
In December 2020 progression again switched her to Lorlatinib which Kay continues with today. She's had a tough 2 years as Kay suffers from pleural disease due to the lung cancer which has caused over 10 emergency hospital admissions in the past 18 months due to sepsis. She is currently on day 12 of a hospital admission fighting severe sepsis. Last year her longest single stay was 7 weeks.
Onto brighter days
Kay had progression in her chest wall in January 2023, so has just completed 15 radiotherapy sessions. The sepsis took hold 10 days later and another emergency hospital admission. This was very severe and Kay was fitted with a chest drain and is currently on IV antibiotics Fetroja (Cefidericol) 3 times a day for 3 hours. Her consultant told us her scan was the worst he'd ever seen in 10 years but he stressed it was but now you are much improved! She continues to improve & hopefully she will be back home & back to nursing & living very soon.
We keep hope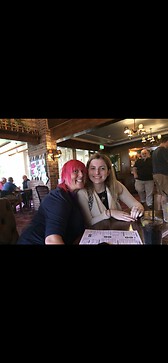 This article represents the opinions, thoughts, and experiences of the author; none of this content has been paid for by any advertiser. The LungCancer.net team does not recommend or endorse any products or treatments discussed herein. Learn more about how we maintain editorial integrity
here
.

Community Poll
Have you ever used videos as a way to advocate for lung cancer?