Meet Nicole – Part II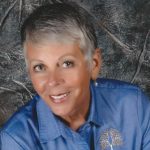 By Dusty Donaldson

·

August 1, 2018
This is Part II of the article series, Meet Nicole, taken from a March 2018 interview with Nicole McNair of Greensboro, NC.
My misdiagnosis – back problems
Dusty: How did they tell you that you had lung cancer?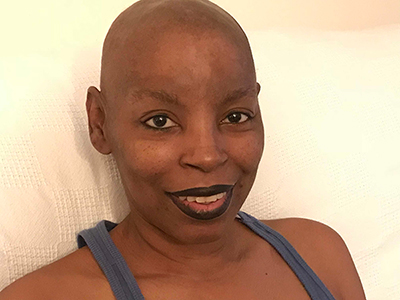 Nicole: "My doctor called me on the telephone. My primary doctor at the outpatient clinic was the one who called and told me, 'Well, I hate to tell you but your MRI states that you have stage IV lung cancer.' That's how that went."
Earlier that year, in January 2016, doctors thought her increasing pain was caused by a back problem. They conducted surgery but that only made the pain worse. Nicole says the doctors used an old medical image. She thinks if they had taken a fresh image, they would have seen the tumors. Not only did the surgery not help, it made the pain worse.
"By June I could hardly walk. To get in a car, I had to get in the back seat so I could lay down. I couldn't sit normally. By July, I couldn't walk."
"I called the back surgeon and said if you had done an MRI on me or a CT scan you would have seen it before you opened my back up because I had cancer. It made that cancer spread on that bone like wildfire when he went in my left ilium bone."
Navigating insurance without a diagnosis
Nicole's friend Katie "told me it was because I had the orange card (a government-funded insurance card). Nobody really wanted to help me. I didn't have good insurance and I didn't have a job. She said that was the reason I was getting the run around. Nobody wanted to do anything for me because of the simple fact that I had that little orange card."
"I told them, 'You didn't give me the cancer but you made it spread. When you opened my back up you made my cancer spread. Cause I went from being able to walk around and do stuff for myself before the surgery to by the middle of the year I could hardly walk from the pain. Once I got diagnosed and got Medicaid, I threw my orange card away."
Going through chemo, radiation, immunotherapy…
Dusty: What treatment have you had?
Nicole has had several different types of chemotherapy and immunotherapy. She never underwent a tissue biopsy. Her doctor tested her blood for biomarkers, called a liquid biopsy. No actionable biomarkers were found. She also underwent radiation three times. The first radiation was in 2016 on her pelvis.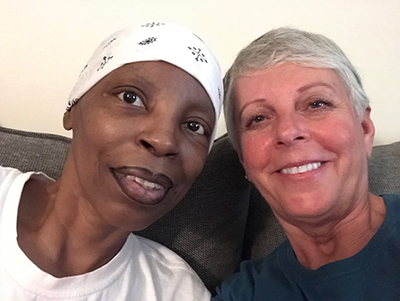 Nicole: "I was doing good during and after radiation. I was able to walk around and do for myself. I was able to drive. In October 2017, I had to stop driving due to brain seizures. I had radiation to my brain to shrink nine lesions. In January 2018, I just had radiation in my pelvis again. (That's where the doctor said it got bigger.) There also are ones on my ilium and the two up under my kidneys. So radiation didn't help."
Fighting for a second opinion
Nicole said she felt as if her oncologist was giving up on her. Three times he advised her to stop treatment.
"He wants me to sign up for hospice. To me it's like he's giving up. He told me that there was no need for chemo. I'm a fighter. I don't want to give up like that. I'd rather try something…than not to try nothing at all, you know? That's why I went to Duke and got my second opinion in December 2017."
While the Duke visit didn't offer Nicole much in the way of new anti-cancer treatment, it significantly helped with symptom management.
"I came in there hurting too bad to not have the type of medicine I needed to keep my pain level from being so high. They actually admitted me and I didn't get out of the hospital until the 24th of December. If I hadn't said I was ready to come home, I don't think they would have let me come home then, but because I told them I was ready to come home, I didn't want to spend Christmas in the hospital."
"I'm a fighter. I've seen what it is to not have treatment any more. So I just can't give up like that. Even though it's done tore my fingers up and three of my toenails done came off my toes from this last chemo I had. I'd rather try something than do nothing at all."
"Don't give up"
Dusty: Do you have advice for others?
Nicole: "Don't give up. When you know there is something wrong with yourself, you keep on at it. Find somebody who will listen. Because that was my biggest regret, being stage IV, and to me, I didn't have to be stage IV. If I had someone listen to me and do what was needed.
"Don't give up. I believe there's something out here for everybody. Just cause the doctor tells you that you have a bad aggressive cancer, it's up to God. It's all on Him. Wednesday when I heard it, I came home and I cried and I cried and I cried. But then I said, you know what? You ain't going to put nothing on me that I can't handle and You got me. So just don't give up. Don't give up. Life is short. Nobody knows the day, the time, or the hour."
Dusty's Note: Nicole came to our support group a couple of times, but due to her pain level, she cannot come now. She has no computer, nor does she have a smartphone. Even though she is somewhat isolated from the lung cancer community, Nicole would like to share her story and connect with unmet friends. You can post a message for Nicole on Facebook. Her friend will share your comments with her periodically.
Learn more about Nicole and her lung cancer story in Meet Nicole Part I.
This article represents the opinions, thoughts, and experiences of the author; none of this content has been paid for by any advertiser. The LungCancer.net team does not recommend or endorse any products or treatments discussed herein. Learn more about how we maintain editorial integrity here.