Hope is a word I never used to associate with lung cancer because for a very long time there just wasn't any. I have been fighting lung cancer indirectly, and now directly, for 35 years. My family and I fought alone for most of that time, and I remember the feeling of helplessness and the lack of support and compassion as I watched my mom, dad, aunt and two grandparents suffer and die of lung cancer.
Lung cancer was an invisible disease
There weren't any walks or events for lung cancer anywhere in the country, and there certainly weren't any organizations or support programs. There wasn't a lung cancer community because people didn't live long enough to become advocates. No one talked about lung cancer. Lung cancer was the invisible disease.
Up until the past decade the only distinction doctors could make was whether a person had small cell or non-small cell lung cancer and patients had three treatment options; surgery, radiation and chemotherapy. And still, there was debate whether it was even worth treating lung cancer because in many cases the benefits were marginal and the toxicity was worse than the disease.
Underfunded and misunderstood
Lung cancer remains the number one cancer killer and continues to be grossly underfunded and misunderstood. It's still frustrating and disheartening, and when I was diagnosed nine years ago, the fear created a different sense of urgency. But, we've made great strides, and major scientific advances have created a new treatment paradigm for lung cancer patients.
Developments in lung cancer research over the past 10 years have galvanized the community. In the past three years, there have been 17 FDA approved drugs for treating lung cancer, and currently there are 1,400 clinical trials being done in lung cancer. This past decade has brought real, palpable hope for lung cancer patients and their families.
What if new treatments had been available for my parents?
Look at targeted therapies, immunotherapies, targeted radiation and better imaging. All of them are prolonging and bettering the lives of so many diagnosed with lung cancer. My dad died three months after his diagnosis, and my mom died six months after her diagnosis. What if their cancer was caught earlier or if there were targeted therapies available back then? Maybe my dad would have lived just a few more weeks to see me graduate 8th grade, or maybe even long enough to see me graduate high school. And maybe my mom could have lived six more months and been there for the birth of my daughter, or maybe even long enough to meet all of her grandchildren.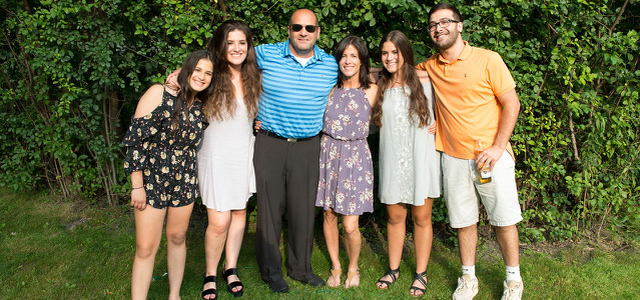 Milestones stolen away
Those are the treasured milestones that were stolen from my parents – and from me. But because of an increased awareness, a better understanding of the biology of lung cancer, and advancements in research, last May, I lived to see my fourth, and last, child graduate 8th grade! That is Hope.
And today there is a steadfast lung cancer community. As a patient, it's reassuring to know that there is an incredibly large and caring lung cancer community that provides strength and support. But more importantly for me, my kids will never have to suffer alone in silence…like my family did.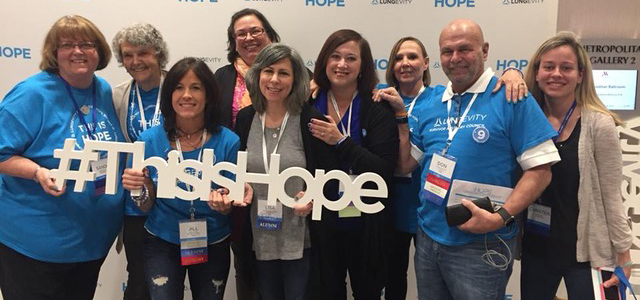 Finding real hope in our community
I experienced real hope for the first time at LUNGevity's Hope Summit in 2014. Watching the interaction between survivors and caregivers and hearing about promising advancements in research and treatment was so inspiring that it opened my eyes and mind to hope. I didn't want to forget that feeling so I decided to get a tattoo on my wrist that simply said hope, with the 'e' being the cancer ribbon. It is a permanent reminder and a positive response to the physical and emotional marks lung cancer has left on my body and my soul.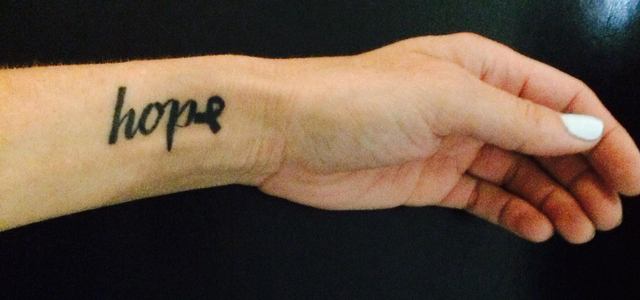 Hope is friends, family, & new resaerch
Hope is a powerful force. It means different things to different people at different points in their lung cancer journey. Hope is all the new and better treatment options for patients. Hope is the love and support of family, friends and the lung cancer community. And during the dark times, hope is having faith and believing that nothing, not even lung cancer, can defeat the human spirit!
This article represents the opinions, thoughts, and experiences of the author; none of this content has been paid for by any advertiser. The LungCancer.net team does not recommend or endorse any products or treatments discussed herein. Learn more about how we maintain editorial integrity
here
.

Community Poll
Beside manner matters! What has your experience been?