I Never Smoked, but I've Been Diagnosed With Lung Cancer at 52
Last updated: November 2021
Towards the end of 2019, I started having shortness of breath, chest pain, dizziness, and anxiety when I would exercise. I went to my primary care doctor in January, he did an exam, EKG, chest X-ray and it was all normal. He sent me to cardio, they did a full workup including a heart catheter, it was all normal. My PC sent me to a critical care Pulmonologist, I have had asthma since I was 26 but hadn't been to a Pulmo before. He did a complete workup and found that I had an extreme amount of inflammation in my lungs, he felt like my asthma was just out of control, I was about to leave with new inhalers and meds when he said we should do a chest CT, I always like to do one on my patients.
The next week...
I went the next week for a CT with contrast. These days we can see our test results before the doctor calls with results on our mychart accounts. I have been a medical professional for over 23 years at this point, so when I got back to work that day after my CT, I checked my chart after a while and was floored to see that I had a growth in my left lung.
I immediately went to the physician I worked with and showed him what it said. He asked if I had ever smoked, I have never smoked anything, ever. He said, haven't you been to Central America? I said yes, he said maybe it's just a little fungus left from that trip. I liked that idea so I settled a bit. My pulmonary Dr. called and said it could be an infection even though I had no symptoms of that. He put me on Cleocin and had me wait 8 weeks to repeat the CT.
After the second Computed tomography (CT) scan
After the 2nd CT, I went to see him and it was still there, he said we could wait and watch it or remove it. I told him I wanted it out as soon as possible. He agreed. All of this is happening while the Covid pandemic is unfolding, I went to see my surgeon and set up my surgery for May 20, 2020. I really did not expect it to be cancer...at all.
When I went in for my surgery, my husband was able to be with me before the surgery and was only there until 12pm each day. He had to beg the nurses to stay longer so he could be with me when I was told that I had cancer. He met me in the ICU and was able to be there for a while and was able to come each day from 8-12 due to the Covid restrictions. I was diagnosed with Mucinous Adenocarcinoma Lung Cancer Stage 1A. We had asked the surgeon to be aggressive with the amount of lung he removed if it was cancer and he did get great clear margins. I had the left lower lobe of my lung removed, I didn't need any further treatments, this was a blessing in such a scary time.
5 days of being in the hospital
I was in the hospital 5 days, had a few setbacks but was so happy to get home. The recovery was extremely rough, my surgeon said the surgery was more painful than open-heart surgery. I have follow-ups with my oncologist every 3 months with full torso CTs every 6 months. I followed instructions from my oncologist closely regarding Covid and my employment as I was in inpatient care, he didn't want me to go back until I was vaccinated and even then didn't want me doing patient care. This was way before vaccines were out. In July, 2 months after my surgery, my employer of 10+ years explained that if I couldn't come back to the office to work (I was a practice manager working from home since the week before my surgery) he would be cutting my pay. I quit. I learned a lot about a lot of people in my life during this fight. I have been home recovering, getting stronger, and staying healthy. I've had 3 Covid vaccines and all my scans and blood work have been great thus far.
What my doctors say
My doctors say the only risk factor I have for lung cancer is my grandfather and many uncles had lung cancer and that I am an asthma patient. I have learned a lot in the healing process about myself, I'm stronger than I thought. I don't know what I would have done without my husband, Jason, he has been holding me up and taking great care of me through it all. I am loving life, being a mama to our five wonderful children and a Mimi to our 5 amazing grandchildren.
A glimpse of my family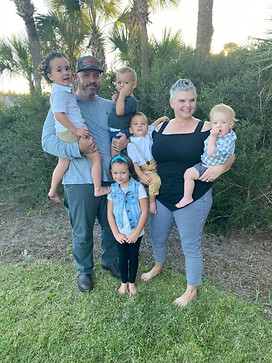 This article represents the opinions, thoughts, and experiences of the author; none of this content has been paid for by any advertiser. The LungCancer.net team does not recommend or endorse any products or treatments discussed herein. Learn more about how we maintain editorial integrity
here
.

Community Poll
Have you ever used videos as a way to advocate for lung cancer?