Tools That Can Help You Manage Your Disease
Fighting lung cancer is nearly a full-time job. The time is long since past that we as patients should sit back and just turn over our health to our doctors. The fact of the matter is, we are in a battle for our lives and no one, no one, cares as much as each of us does about our own survival.
Take charge of your care
Don't get me wrong. I am not by any means saying that our doctors and medical team don't care. I believe they do. But, doctors are overworked. Many have so many patients that they just don't have much time to spend with each one individually. If you go to a community cancer center, chances are very good that your doctor treats a patient with breast cancer, one with prostate cancer, then one with lung cancer, and next one with colorectal cancer. As fast as treatment, options are changing these days, there is no way he or she can be well-educated in every cancer type.
My oncologist is a cutting-edge researcher at a National Cancer Institute (NCI) designated cancer center and he is a thoracic cancer specialist. Even so, I sometimes am more aware of what has been in the news about treatments and FDA approvals than he is. I have far more time than he to keep track of everything that is happening in the world of lung cancer.
Create Google alerts
Set up Google alerts if you have not already. It is simple and free. Google will scour the day's (or whatever timeframe you request) news and send an alert to your email listing all the news that meets your criteria.
Here's how you do it:
Go to Google alerts
Choose your keywords. If you have a mutation, such as EGFR or ROS1 or even a more uncommon one, be sure to request alerts for it. There is no limit to the number of keywords you choose.
Select the frequency for which you wish to receive alerts. You can elect to get the alerts as the news occurs, once a day, or once a week. You can also decide whether you want individual emails or a digest that includes all of your alerts in one email. You can even choose what time of day you wish to receive the alerts.
Choose the sources you want Google to monitor: news, Web, blogs, video, books. Just about the only thing Google won't search for you is social media.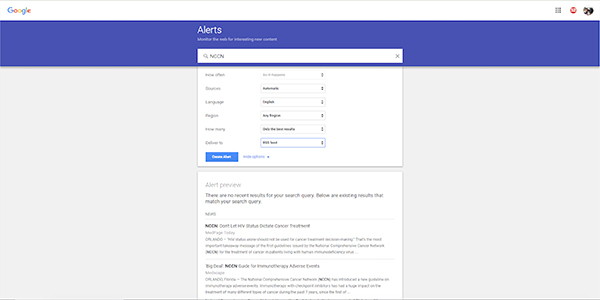 Give it a try. It is very easy to modify any of your choices or you can delete them if the keyword isn't proving effective.
Use NCCN resources
Another helpful tool is available for free from the National Comprehensive Cancer Network (NCCN). The NCCN is a not-for-profit alliance of 27 leading cancer centers that are devoted to patient care, research, and education. The alliance is "dedicated to improving the quality, effectiveness, and efficiency of cancer care so that patients can live better lives."1
The NCCN offers Patient Guides that are based on the same treatment information your oncologist uses. The information in the guides will help you talk to your doctor about the best treatment options for your disease. As I mentioned earlier, this is particularly important if you are treated at a community cancer center where your doctor treats people with all kinds of cancer and cannot possibly be an expert at all.
The guides provide questions that you should ask your doctor, patient-friendly illustrations, and glossaries of all of the terms and acronyms we are hit with after we are diagnosed with cancer. It is like learning a whole new language, isn't it?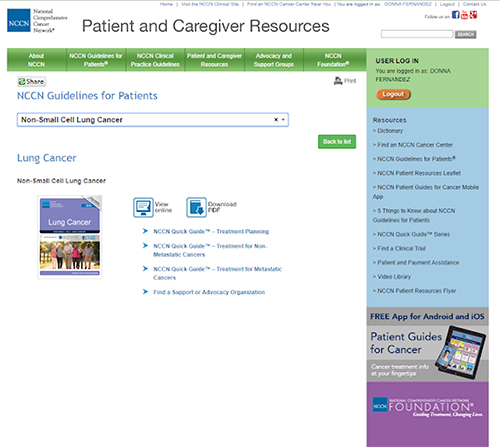 There are NCCN apps for your smartphone if you wish to get them. The applications are available for Android and iOS.
This article represents the opinions, thoughts, and experiences of the author; none of this content has been paid for by any advertiser. The LungCancer.net team does not recommend or endorse any products or treatments discussed herein. Learn more about how we maintain editorial integrity
here
.

Community Poll
Are you raising children during your lung cancer journey?