Remembering Jeffrey Poehlmann
We are incredibly saddened to share that LungCancer.net team member Jeffrey Poehlmann has passed away on October 21, 2018. Jeffrey had been living with stage IV lung cancer for the past 4 years. We are thinking of all of his loved ones, especially his wife and young daughter. Jeffrey will be remembered, and missed, by all who knew him.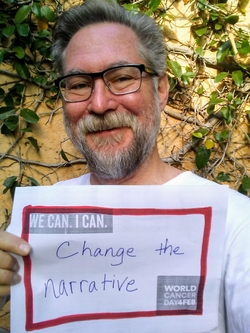 A dedicated advocate
Jeffrey advocated for lung cancer in many ways, and shared so much of his journey with the community. Some of his writing can be found at the below links; a full list of his articles can be found here.
In addition to his work for LungCancer.net and his active advocacy for lung cancer, more of his writing and creative work can be found at his blog, Just Bad For You.
Join us in remembering Jeffrey
We know that Jeffrey's writing, advocacy efforts, and personality touched so many in the community. If you would like to share any memories or stories about Jeffrey, please visit our memory wall.
Jeffrey's family asks that in lieu of flowers, donations be made to his daughter's college fund. A link to the donation page can be found here.

Community Poll
Beside manner matters! What has your experience been?