Reaching Some New Milestones
May 2021 has been quite a busy month for my family! Not only did my younger son graduate from high school, but my husband and I decided to sell our house in the Northwest suburbs of Chicago and downsize to a condominium.
Celebrating a milestone with my family
One of my biggest concerns, when I was first diagnosed with lung cancer, was whether I would live long enough to see my two boys grow into adulthood. I am so incredibly grateful that I have been able to see both of my boys graduate from high school. My younger son even had an almost normal graduation ceremony, of course with everyone wearing masks!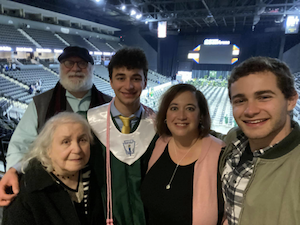 His high school is very large with a graduating class of over 1,000 students, but they were able to split the class in half to hold an indoor ceremony at the same sports arena that was used for my older son's graduation two years ago. I'm certainly glad it was indoors because it ended up pouring rain! To add to the specialness of the event, my almost 90-year-old mother was able to attend as well and we even went to a restaurant for dinner following the graduation. It's very nice to feel that we have a bit of normality returning to all of our lives.
Looking ahead at our future
I've mentioned in a previous article that my husband and I were considering downsizing once both boys were in college and moving to the nearby town of Evanston. Well, this ended up happening a lot more quickly than we ever expected! We went to look at a few condominium buildings about a month ago "just to see" what kind of options we might have, and also decided to talk to a realtor "just to see" what we might need to do before our house of 18 years would be ready to sell.
Finding our new home
What happened was a bit of a whirlwind! The market is very good in our suburb right now due to the excellent reputation of our school district. Ironically, this is one of the reasons why we are planning to move; now that our boys have finished their pre-college education, we can't really justify continuing to pay such high taxes to fund this school district. Our house ended up selling in just a couple of days, even before it was "officially" put on the market, without us needing to fix or update anything.
Fortunately, we were able to purchase our favorite of the Evanston condos that we had seen and were also able to negotiate with our house buyer to extend our time living in our home through the end of July. Now that graduation is over, we have most of the summer to decide what we wish to keep, sell, or throw out.
A new chapter begins
While I am excited about our impending move, it is odd to feel that the stage of life we spent raising our children is now over. Yes, they will still need us, but not in the same way as they did when growing up. There will always be room in the condo for the boys and I hope to see many, many more of their milestones in my future.
This article represents the opinions, thoughts, and experiences of the author; none of this content has been paid for by any advertiser. The LungCancer.net team does not recommend or endorse any products or treatments discussed herein. Learn more about how we maintain editorial integrity
here
.

Community Poll
Have you ever used videos as a way to advocate for lung cancer?