A New Lung Cancer Book for Patients
Although I was an English major as an undergraduate in college (many years ago!), I never had my writing published until after I was diagnosed with lung cancer. Instead, I worked in finance and marketing in corporate America for many years. My writing skills definitely came in handy but were not the biggest focus of my work.
Many developments in lung cancer treatment
Since 2018, I have been writing articles for LungCancer.net and have found that I enjoy doing this greatly. Recently, I was invited to help Dr. Joan Schiller update the Fifth Edition of her book about lung cancer aimed at patients and caregivers. If you are not familiar with Dr. Joan Schiller, please read about some of the amazing work she has done in her career to increase lung cancer awareness, publish research and help patients living with lung cancer.
The First Edition of "100 Questions and Answers About Lung Cancer" was published in 2006. At that time, chemotherapy was the only treatment for lung cancer and there were very few resources available for people impacted by lung cancer who wanted to educate themselves about the disease. As each succeeding edition was published, treatment options and new developments have been added, including resources for support and advocacy.
In this era of online access, some may wonder if a physical book on lung cancer is really necessary, especially as constant innovation results in printed information getting outdated quickly. I still believe there is incredible value in the printed word. Even in this day and age, there are MANY people around the world who do not have reliable internet access; frequently this is due to age, geography, or socioeconomic situation. It is very difficult to reach this portion of the population directly, other than through the use of printed materials. Additionally, there are others who still prefer to read a physical book where they can make notes and underline sections.
A new resource for lung cancer patients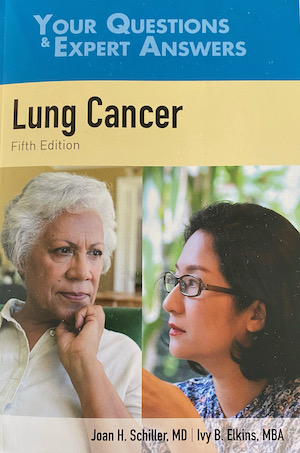 Renamed "Lung Cancer: Your Questions and Expert Answers" for this most recent edition, our book contains information about biomarker testing and helpful links to advocacy groups, including both large non-profit lung cancer groups and the smaller patient-driven biomarker-driven groups that have been created more recently. Getting this material out to new patients with lung cancer could be extremely helpful! There is even a checklist included of important questions to ask your doctor and of course, 100 questions and answers about topics ranging from lung cancer basics through treatment types and clinical trials.
There's a lot of valuable information that will appeal both to newly diagnosed patients and patients who are further along on their journey. It is also our hope that hospitals, patient advocacy groups, and even pharmaceutical companies will use this book as a resource to support patients.
This article represents the opinions, thoughts, and experiences of the author; none of this content has been paid for by any advertiser. The LungCancer.net team does not recommend or endorse any products or treatments discussed herein. Learn more about how we maintain editorial integrity
here
.

Community Poll
What healthy habits do you use to improve the quality of your life?