On November 2, 2017, I joined over 200 lung cancer patients, advocates, and survivors at a rally in front of the U.S. Capitol in Washington, D.C. to urge Congress to increase lung cancer research funding. The rally, called Life and Breath, was organized by several lung cancer advocates, and was somewhat impromptu, put together in about six weeks. They used the hashtag #433aDay to poromote the rally because 433 is the number of Americans that die EACH DAY from lung cancer.1 The main focus of the rally was to point out to Congress that lung cancer is by far the biggest cancer killer, but the research funding for lung cancer lags behind many others.
Highlighting the Lack of Research Funding
The rally included speeches from several members of the United States Congress who are members on the Lung Cancer Caucus, which is a group of congressmen who serve as a clearinghouse of information to aid Members of Congress in their understanding of the issues surrounding those who are living with and those who are at risk for lung cancer. Most notably was Representative Rick Nolan from Minnesota (pictured below with me at the rally). His daughter, Katherine Benson, is a stage IV lung cancer patient currently going through treatment. Representative Nolan was joined by Representatives Debbie Dingell from Michigan and Juan Vargas from California. It was so encouraging to hear these members of Congress tell the group of their commitment to advocating for lung cancer research funding. I spent some time speaking with Rick Nolan after the rally, and found him to be very sincere and committed to the cause.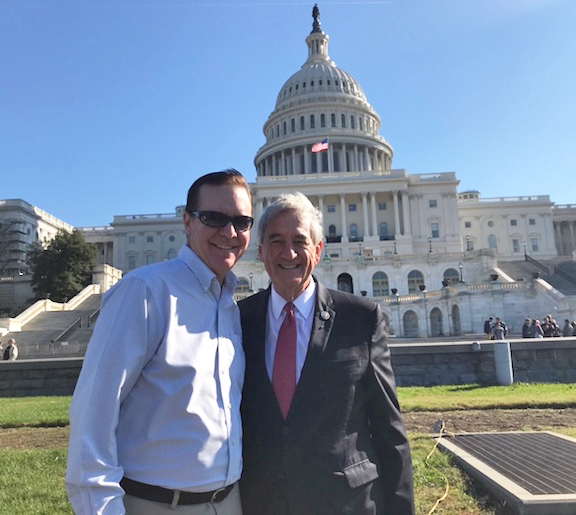 Other guests who spoke included Chris Draft, an advocate for research whose wife Keasha died of lung cancer shortly after their wedding in 2011. She was 32 and never smoked. Chris gave an inspirational talk about how anyone can get lung cancer and that we need to educate the public that it's not just about current patients and survivors. Americans need to understand that it can happen to anyone at any time, whether you smoke or not. The rally ended with the placement of 433 small flags in the ground to represent the number of Americans who died that day from lung cancer. Each flag had a name written by participants, of a family member or friend who had died of lung cancer. It was a stirring visual of how many people die each year from lung cancer.
The Power of Community
This rally is a great example of a grassroots effort by lung cancer advocates that can bring together people with a common purpose – research funding. This was a diverse group from across the country. One of the organizers, Deana Hendrickson, flew in from Los Angeles to lead the effort. I had met her on Twitter, but never in person. It was so rewarding to meet her in person, and several others that I had communicated with on social media. This shows the power of how online communities can convene with common purpose to shine a light on the need for more funding for lung cancer research. Many people attending the rally also had scheduled meetings with their own congressmen to seek their support. I believe these types of grassroots efforts can have a positive effect on gaining more support. I also believe that we will need continued government investment in lung cancer research to find more targeted treatments and hopefully earlier detection in order to make progress in saving lives.