Lung Cancer Advocates Go to Washington
Often, after a person is diagnosed with lung cancer, they may feel as if they have lost some sense of control in their life. After all, before cancer, they may have had a full head of hair, their ability to focus was unhindered by chemo brain and they didn't hesitate to make long-term plans—which, by the way, did not include lung cancer.
Feeling Empowered Through Advocacy
Lung cancer may disrupt our lives but it cannot strip us of who we are nor can it make us powerless. If you really want to feel empowered, perhaps even more so than before cancer, consider going to Washington, D.C. to share your story with lawmakers on Capitol Hill.
For many years, I have had the honor of working with teams of advocates under the leadership of Lung Cancer Alliance. Based in Washington, DC, Lung Cancer Alliance typically hosts its Advocacy Summit every year. Advocates have gone to Capitol Hill to request lung cancer research funding and screening insurance coverage. Also, collaborating with a team of survivors and advocates from Cancer Survivors Against Radon (CanSAR) and other nonprofits, I had the opportunity to testify before a Congressional Subcommittee about radon.
Speaking to legislators about lung cancer is the most empowering activity I have done as a lung cancer advocate—hands down.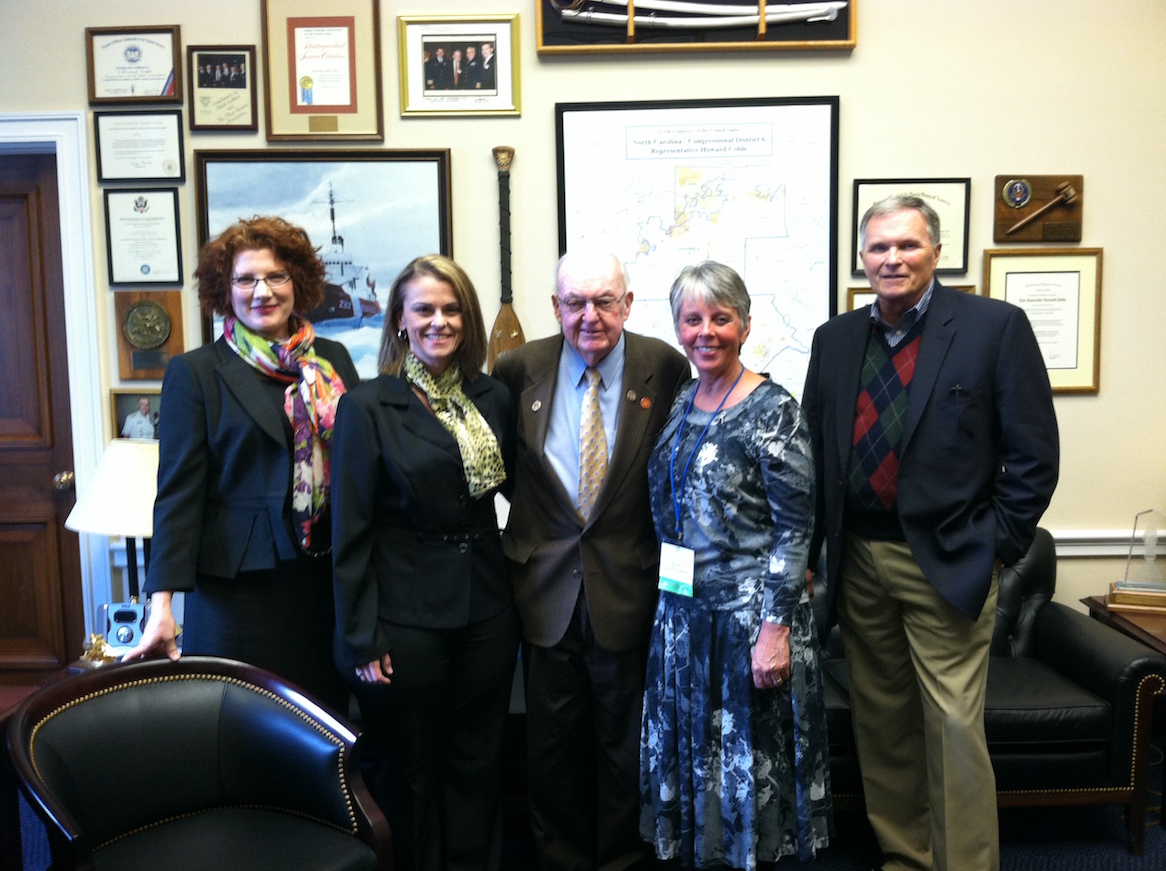 The most powerful thing we can do is share our personal stories and enlighten lawmakers about how lung cancer has affected our lives. After a day of training, advocates grouped geographically, go from one Congressional meeting to another during an exhilarating and intense day of advocating on a national level. Sometimes advocates meet with their Senator or Congressman. More often, we meet with their legislative aids. (The image here is with my former Congressman, Howard Coble, and other advocates.)
Lung Cancer Alliance's National Advocacy Summit will be held Sept. 27-28, 2017 in the nation's capital. Details about this year's strategic request will be discussed in a training session the day before advocates will walk the halls of Congress. With the uncertainty surrounding healthcare coverage—and preexisting conditions, in particular—that topic will certainly be a high priority.
"At a time when access to healthcare is a priority for every American, our combined voices will help ensure that the fight against lung cancer remains a priority among our national policymakers," Lung Cancer Alliance's website states. "You will come together with others impacted by lung cancer to learn how to effectively share your story and educate Members of Congress about the disparities that exist for lung cancer. You will receive hands-on training with distinct calls to action to ensure increased research funding and better and affordable healthcare for all."
How You Can Get Involved:
Lung Cancer Alliance has a limited number of travel grants available. If you are interested in participating in this exciting, empowering and effective event, you can find more information and register at the Lung Cancer Alliance website. (You must register by July 31.)
Other lung cancer nonprofit organizations also help advocates use their voice to make a difference, including LUNGevity, American Lung Association, American Cancer Society's Cancer Action Network and others. If you are unable to trek to Washington for this year's National Advocacy Summit, other opportunities may arise in the future. If you are financially able, consider sponsoring another advocate's attendance.
While you may not be able to control some of the negative things lung cancer has imposed upon your life, one sure way to regain a sense of empowerment is sharing your story with legislators with the hope of making a positive change in the world.
This article represents the opinions, thoughts, and experiences of the author; none of this content has been paid for by any advertiser. The LungCancer.net team does not recommend or endorse any products or treatments discussed herein. Learn more about how we maintain editorial integrity
here
.

Community Poll
Where have you found the most support during your lung cancer journey?