We are extremely saddened to say that on April 1st, 2023, Julie Swedberg passed away. Julie was a valued member of the LungCancer.net community and an incredible advocate and avid writer. We are so honored that Julie shared her story and so much of her experience with our community. She will be deeply missed.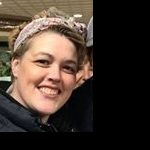 Julie was previously an advocate on LungCancer.net.
In June of 2016, at the age of 41, Julie was diagnosed with Stage IV adenocarcinoma, with cancer in both lungs, lymph nodes and breast bone. Julie has undergone two major surgeries since her diagnosis. The first to remove a stubborn tumor in her right lower lobe with a VATS wedge resection, and most recently, a femur stabilization surgery, including curettage and cementing of a tumor in the left femur, followed by radiation. Julie is currently on her second line of treatment, Tagrisso, after 20 months on Tarceva.
Julie is married and has two active tween boys. Prior to her diagnosis, Julie served as a Chief Financial Officer of a private high school in the Minneapolis area and holds a degree in Accounting and a CPA license. Her professional career has been focused on the non-profit and educational sector. About six months after her diagnosis, Julie made the tough decision to resign her position and go on long-term disability to focus on her health.
Julie has become involved with A Breath of Hope Lung Foundation in the Twin Cities that focuses on education, awareness and patient support. Julie works about 5 hours per week in various capacities to support and advocate for lung cancer patients. Julie has done speaking engagements and other advocacy work to help educate and raise awareness of lung cancer.
Julie is treated at the Mayo Clinic in Rochester, MN.
Click here to read all of Julie's articles on LungCancer.net.
Read our Remembering article for Julie here.