We are extremely saddened to say that on January 28, 2020, Jennifer Toth passed away. Jennifer was a valued member of the lung cancer community, an incredible advocate and avid writer. We are so honored that Jennifer shared her story and so much of her experience with our community. She will be deeply missed.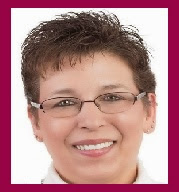 Jennifer Toth, a mom of 7 grown children, was working full time and part time as a freelance writer when Lung Cancer came knocking at the door in January 2014. Since that day she has had surgery to remove both left lung lobes, chemotherapy, radiation, and immunotherapy. She is currently receiving Opdivo every two weeks to treat metastasis to her lymph nodes and right upper lung lobe. Jennifer lost her mother, 4 aunts/uncles, and 2 grandparents to Cancer. She now spends her time being an advocate and mentor to patients in the Lung Cancer Community and continues her freelance writing to help educate others on how lung cancer effects the individual as well as their family.
Click here to read all of Jennifer's articles on LungCancer.net.