Every day is a gift
Last updated: February 2023
Four years ago I went outside to play my ukulele. My left hand could not hit the strings correctly and would not do what i told it to do. I had the same problem typing an email later that day. We soon discovered I had a brain tumor that originated from tumors in my lung.
Being diagnosed with lung cancer
My doctors made it clear that I had stage 4b, incurable lung cancer. In the past four years I've had brain surgery, radiation and 67 chemo sessions in three week cycles. It has been a very rough journey at times and a beautiful journey as well. I've found that I can live an absolutely wonderful and full life in the two out of every three weeks I feel healthy.
The life lessons through lung cancer
Cancer has given me so many life lessons and gifts that I have begun speaking to service organizations, cancer fundraising events, and corporations about living a full life regardless of the obstacles life has placed in your way. I recently wrote a book about my cancer journey that has become a best seller on Amazon.
Using my energy to advocate
Being stage 4b, the odds of me being around today were not good. I want to do whatever I can to help others live a good life for the rest of their lives in the time I have left. I believe cancer has given me the opportunity to help others in whatever time I have left.
Hello, I'm Les!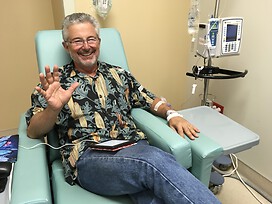 This article represents the opinions, thoughts, and experiences of the author; none of this content has been paid for by any advertiser. The LungCancer.net team does not recommend or endorse any products or treatments discussed herein. Learn more about how we maintain editorial integrity
here
.

Community Poll
Happy Lung Cancer Awareness Month! What does self-advocacy mean to you?