Your Letter to Congress
It's November and not only does that mean it's Lung Cancer Awareness Month, but it also means it's election season. Politics are at the front of everyone's mind. One meaningful way to spread awareness and start the conversation is to write a letter to your legislators. Tell them why it's important to give lung cancer a broader platform and support federal research funding. We've put together some steps and resources to help get your letter in the mail.
Step 1: Who represents you?
Find the name and address of your senators HERE and representative HERE.
Step 2: Download and print
Download and print our letter template below: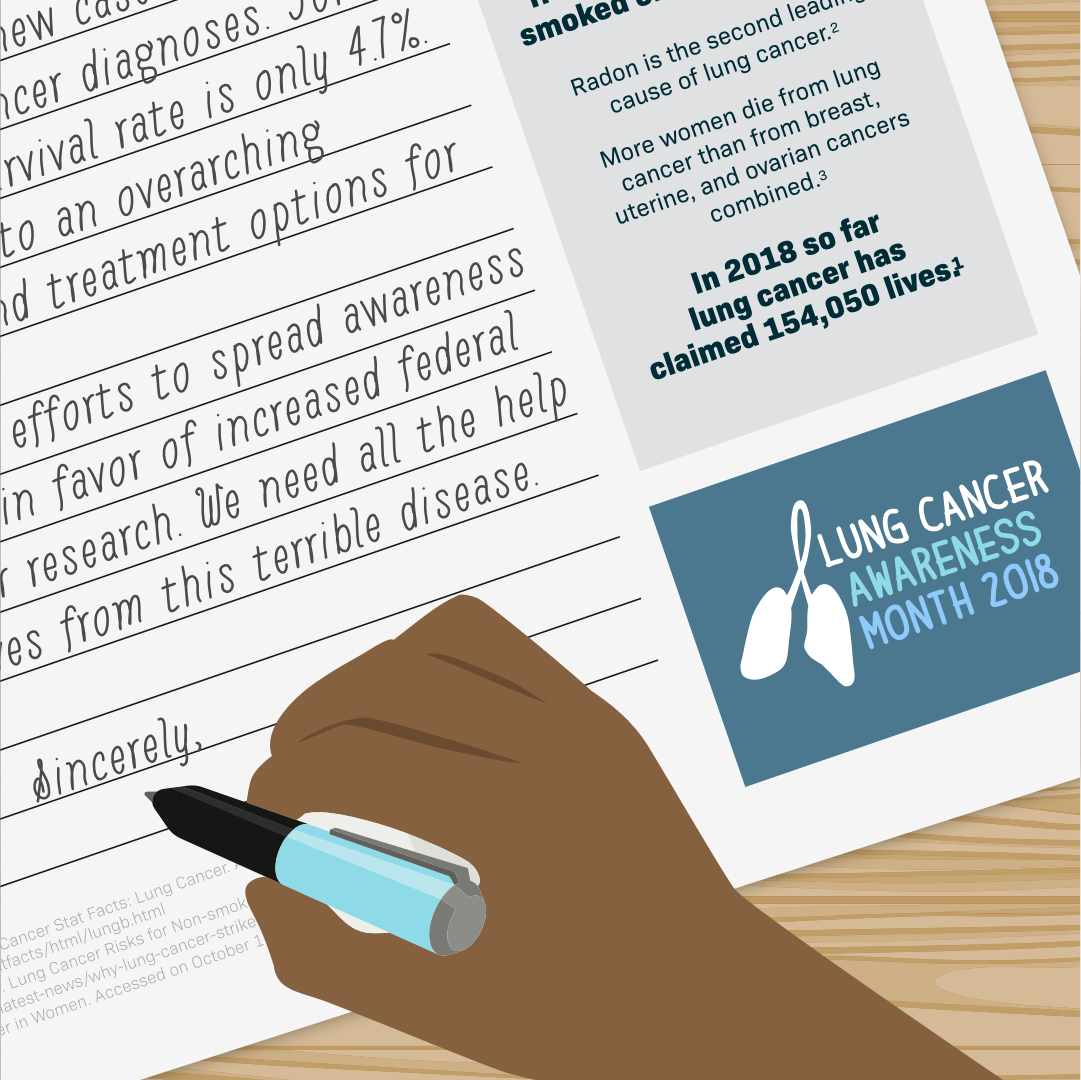 Step 3: Tell your story
Write your story and why you're calling on your legislator to support awareness efforts and legislation in favor of increased federal funding for lung cancer research. Make it personal! To help get started, feel free to use this sample letter and its facts about lung cancer in your own letter.
Sample letter
Dear [your legislator's name],

I am writing to you as a lung cancer advocate to tell you my story, and encourage you to support lung cancer research.

Lung cancer is the leading cause of cancer death in the United States, claiming more than 154,000 lives each year and accounting for 25% of all cancer deaths. This year, there are 234,030 estimated new cases of lung cancer, representing about 13% of all cancer diagnoses. The five-year survival rate for early stage lung cancer is 56%; however, only 16% of new cases are diagnosed at this early stage. For late stage lung cancer, the five-year survival rate is only 4.7%. These exceptionally low rates are not only due to this disease's deadly nature but also an overarching, persistent stigma and a lack of early detection and treatment options.

My experience with lung cancer...[tell your story]

I call on you to...[how your legislator can support the lung cancer community]

Sincerely,
[your name], a lung cancer advocate
Step 4: Share your letter
Take a photo of yourself with your letter and email it to contact@lungcancer.net to be featured on the site!
Step 5: Drop your letter in the mail
Seal, stamp, and send to your senators and representative!

Community Poll
Where have you found the most support during your lung cancer journey?