Traveling to Barcelona for the World Conference on Lung Cancer
Last updated: October 2019
I recently came back from a fantastic trip to Barcelona for IASLC's World Conference on Lung Cancer (WCLC). Since I chaired a session at the conference on Reinventing Clinical Trials, gave a mini-oral presentation on the EGFR Resisters' and LUNGevity's Project PRIORITY and helped with the advocate Travel Awards and new STARS (Supportive Training for Advocates in Research & Science) program materials, IASLC graciously sponsored my trip.
A gathering of lung cancer advocates
This is the third WCLC that I have had the good fortune to attend since being diagnosed. While the prior conferences in Japan and Toronto were awesome, there was a marked difference in how much patient advocates were included in this conference. In addition to the mentor and mentee advocates who were part of the launch of the STARS program at this meeting, numerous other lung cancer advocates from around the world presented posters, participated in panels, and chaired sessions.
Here's a picture of some of the advocates who attended WCLC. There were many more!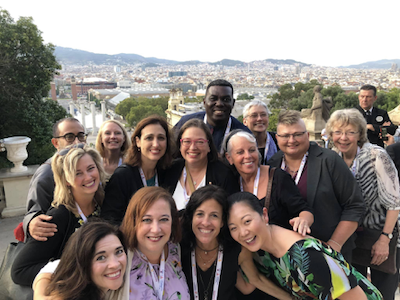 We need to show up and share our stories
Some might question why it's important for patient advocates to attend conferences that take place far away from home and often are quite expensive. Can't we all just read about the findings online? While we certainly can have access to the information presented at conferences while staying in our hometowns, I believe that there is no replacement for the visibility that comes with a significant advocate presence. We need to be there in person — presenting, networking, and telling our stories — in order to remind the oncology professionals why they are doing the work they do.
One of the most impactful presentations at the WCLC conference came from patient advocate and activist extraordinaire Linnea Olson, who has spent more than a decade of her life as a participant in clinical trials. Stories like hers, with all of its positives and negatives, need to be told. I highly recommend that everyone read Linnea's speech. When given at WCLC, I dare say that there wasn't a person in the audience who wasn't moved to tears.
Putting a face to the lung cancer patient
Having patient advocates present at conferences such as WCLC humanizes lung cancer. It makes the doctors, nurses, researchers, industry representatives, and others who attend stop and think. It's much easier to identify with a live human being in front of you talking about living with lung cancer as opposed to "patients" discussed on a slide. It makes attendees pause — this could be me or one of my loved ones — and hopefully, work harder to improve outcomes. This is critically important work for those of us whose disease burden allows us to travel and participate in this way.
This article represents the opinions, thoughts, and experiences of the author; none of this content has been paid for by any advertiser. The LungCancer.net team does not recommend or endorse any products or treatments discussed herein. Learn more about how we maintain editorial integrity
here
.

Community Poll
What healthy habits do you use to improve the quality of your life?