Meet Nicole
The following article was written from a March 2018, interview with Nicole McNair from Greensboro, NC. Nicole was diagnosed with stage IV lung cancer in 2016 at the age of 43. Nicole does not have email or internet access. That is why I wanted to introduce her to others facing similar situations. Nicole would like to communicate with other lung cancer patients, survivors and advocates. I encourage you to post messages on the Facebook page that a friend set up for her. While she can't access it, her friend will periodically share your posts with her.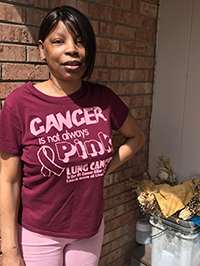 Nicole's story
Dusty:Tell us a little about yourself…your life, family, interests, accomplishments.
Nicole: "I used to be outgoing and stay outside, even in the cold, I'd stay outside. I love bowling. I love throwing horseshoes. I liked to play ping pong.
"I'm the only child my mom has. On my dad's side, I'm the third oldest.
"I started community college in 2010. I got my office administration associate degree in 2010. Then I went back because I didn't have to take that many more classes to earn the business administration and the medical office administration degrees. I went ahead and got those degrees. I finished business in 2012 and medical administration in May 2015.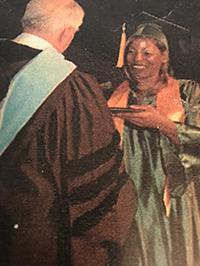 "I thought I was going to have a job. But I was still hurting. When I was in the business administration program, I had to go from going to the school to being at home and doing everything online because of the pain I was in. The pain started when I was in the office administration program but I was able to deal with the pain at first. It started really hurting when I was sitting in the seats at school. I did finish that program, even though the pain was really bothering me."
The college was able to accommodate Nicole, "to a certain extent," she says. "I had some teachers who were a real trip. They didn't want me to take online classes. After that they found out I have cancer, they apologized for not being understanding of my situation."
Nicole, now 45, was in her late 30s when she started college.  She earned honors in each of her three associate degrees. She also earned six certificates in business and medical administration programs.
"I asked, Lord, why in the world did you wait until I got older to take me through school? But when I was younger, I probably wouldn't have finished. He probably waited until I was ready."
Nobody listened to my pain
Dusty:Tell us about the symptoms that lead to your diagnosis.
Nicole: "I had been hurting for over five years. Nobody paid me any attention. Nobody listened to me. The doctor at the outpatient clinic thought it was about the medicine. He thought I had turned into a pill head...instead of listening to me. I wasn't that type of person."
Eventually, they did an MRI in July 2016.
"Because of the spot in my pelvis, that's how they found it. They didn't know it was in my lungs until they did the MRI to see that it was in my pelvis, that it was metastasized. When you go five years and nobody pays you any attention…it just hurt and made me mad because I was like, we could have done something a long time ago and nobody listened to me.
"That's what I really want people to do, regardless: don't give up. If you can tell there is something wrong, keep saying something. I just hate that I kept saying something and nobody listened. They waited until I was stage IV when I was diagnosed."
Learn more about Nicole and her lung cancer story in Meet Nicole Part II.
This article represents the opinions, thoughts, and experiences of the author; none of this content has been paid for by any advertiser. The LungCancer.net team does not recommend or endorse any products or treatments discussed herein. Learn more about how we maintain editorial integrity
here
.

Community Poll
Do you find that staying zen through your lung cancer diagnosis has helped you in your journey?