"I Can't Go On…I'll Go On"
This article was written on March 6, 2020. Further developments in what we know about the coronavirus are continuously emerging.
Chinese New Year is the first day of the Chinese lunar calendar, and this year is RAT year. Around Chinese New Year, Chinese people say something hopeful to each other and bless the good fortunes for the coming year. Even for people like us having lung cancer, we have to pretend to forget lung cancer, side effects, treatments, and visiting the doctors because the beginning of the Chinese New Year is especially important.
An unfortunate beginning of the Chinese New Year
Several unfortunate incidents occurred around the beginning of Chinese New Year. In December 2019, the Iranian government mistook the Ukraine passenger plane as a USA's missile and shut it down. Among the passengers, 97 were Canadians, and most of them were current and former Iranian graduate students and professors. Two passengers were my husband's colleagues. My husband was originally from Iran. That was a sad beginning of the Chinese New Year.
The eruption of coronavirus (COVID-19)
In the same month, the crisis of COVID-19 swept China. The COVID-19 was found originally in the city of WuHan. So far, more than over 66,000 people have been infected, and more than 1,500 deaths due to COVID-19. Wuhan and 80 Chinese cities including Beijing are on lockdown. There are 20 million people in Beijing alone under quarantine.
For Chinese lung cancer patients, it's unspeakable. The hospitals have stopped most of non-emergency patients and tests. The patients cannot go to see the doctors because the hospitals are used for people infected by COVID-19. Due to the closure of the drug stores, lung cancer patients can't purchase targeted medicines every month. If lung cancer patients live in the suburbs, they cannot go to the emergency because the roads in many cities have been closed using concrete blocks. My lung cancer friends get quite nervous if the COVID-19 crisis lasts long.
The death of lung cancer patients
From the beginning of the year, too many lung cancer patients and advocates passed away, like Don Stranathan, Jennifer Toth, Dyanne Haakon Soraas, Janice Tomecek, and Brian Onyschak. I talked to them through Facebook or met them in lung cancer survivorship conferences. Although we didn't regularly speak to each other, we had a kind of special trust, understanding, and connections. It's difficult for "healthy people" to understand because we have lung cancer. When we got that trust, it wasn't easy to let it go. Also, it always reminds me: when is my time...?
"I can't go on...I'll go on"
The above words were from the neurosurgical resident and an EGRF lung cancer patient Paul Kalanithi's memoir, "When Breath Becomes Air."1 These words were carved in my mind since I read Kalanithi's biography last year. We cannot let sorrow swallow us.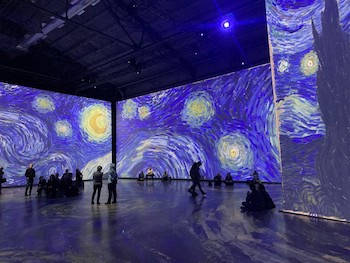 I decided to go to Montreal (Quebec) for four days at the end of January and tried to uplift my spirit. I planed to visit some museums and art galleries in Montreal, like Arsenal Contemporary Art Montreal and the Montreal Museum of Fine Art. They were fantastic. Especially I visited the exhibition "Imagine Van Gogh." I wandered among 200 giant projections of the artist's patients, "swept away by every brush stoke, detail, painting material and color." With French music in the same period, my senses became fully awakened. I felt overwhelmed. At that moment, I reinforced my promise that I'm not going to waste even one minute. I'm not going to regret anything.
After I came back, I posted several pictures with a written piece about my experience in the Arsenal Contemporary Art Montreal on Facebook. The responses surprised me, especially one patient friend mentioned in the response: "Sometimes we need posts like this to lift our spirits. You've lifted me up." That's what I want and need to do -- to lift our spirit.
A lesson to be learned
The unpredictable future for lung cancer patients and the overwhelming response to my post about "Imagine Van Gogh" on Facebook taught me a lesson. We, especially lung cancer patients, cannot control how long we live in this world; therefore, we have to live fully even if we have to go tomorrow.
Chinese New Year is not bad, at least I learned something.
This article represents the opinions, thoughts, and experiences of the author; none of this content has been paid for by any advertiser. The LungCancer.net team does not recommend or endorse any products or treatments discussed herein. Learn more about how we maintain editorial integrity
here
.

Community Poll
Do you participate in awareness month activities?