Fully Vaccinated: Now What?
Last updated: August 2022
I was fortunate to have been able to receive two doses of the Moderna COVID vaccine in February. I had just a slightly sore arm after my first dose; however, after my 2nd dose, I had a whole variety of side effects including a 102°F fever, chills, body aches, and fatigue. These side effects only lasted one day and although I didn't feel great while they were occurring, I was happy to know that my immune system was working busily to make COVID antibodies!
My post-vaccine shortlist
After my second vaccine, I waited for two weeks before changing anything in my current routine to make sure I was as fully protected as possible. Then, I came up with a shortlist of the most important things I wanted to do. One was to get a haircut and color treatment; I hadn't visited a salon in over a year! I made appointments to go to the dentist and the eye doctor, two visits that I considered non-essential until I was vaccinated since I wasn't having any trouble with my teeth or eyes.
But, overwhelmingly the most significant thing I was now able to do was to finally go visit my 89-year-old mom, whom I hadn't seen in more than a year.
Final able to hug my mom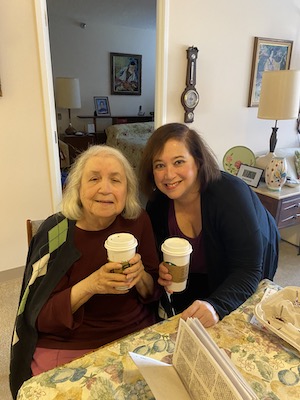 My mom lives in an independent living community that is partnered and connected to an assisted living facility. Given the risk to the elderly residents, her community has enforced strict quarantine requirements since the beginning of the pandemic. Fortunately, this has meant that they ended up with very few cases of COVID among the residents, but it also has meant that my family and I could not visit. On my mom's birthday, we dropped off a cake and waved to her in her third-floor apartment from the parking lot down below.
Now that we are both vaccinated, I was finally able to go visit my mom and give her a hug! She is a lung cancer survivor like myself, so I never take these moments for granted.
What does research say?
According to a recent study of 261 people with cancer, most people with solid tumors such as those found in lung cancer "are able to mount an antibody response to the coronavirus that is similar to the general population."1
While this is good to hear, I'm still planning to be cautious when deciding on future outings. While I now feel comfortable enough to visit a grocery store in person (armed with a mask and hand sanitizer), I'm not ready to eat indoors at restaurants or travel on an airplane yet.
Optimistic for the future
I'm extremely glad that the weather is warming up in the Chicago area because I am looking forward to continuing to enjoy outdoor meals and gatherings with friends safely in the next few months. As COVID numbers (hopefully) start to decrease across the country in the summer months and more and more people get vaccinated, I'm optimistic that by the time the weather gets colder in the fall, my life will be getting further back to "normal."
This article represents the opinions, thoughts, and experiences of the author; none of this content has been paid for by any advertiser. The LungCancer.net team does not recommend or endorse any products or treatments discussed herein. Learn more about how we maintain editorial integrity
here
.

Community Poll
Happy Lung Cancer Awareness Month! What does self-advocacy mean to you?