Accomplishment and Loss
My initial plan for this article was to write about a recent accomplishment of the EGFR Resisters Lung Cancer Patient group: namely, the successful awarding of two grants of $200,000 each to researchers for two-year projects investigating important issues in the EGFR lung cancer community.
However, one of the seven original co-founders of the EGFR Resisters just passed away due to lung cancer and the lack of effective current treatments to manage his progression. As a result, I am unable to talk about our accomplishments without also reflecting on the losses in our community. Allen Lee wasn't the first of our co-founders to die from lung cancer, but he was the youngest, having been diagnosed at only 29 years of age. We have also lost co-founders Anita Figueras and Teri Kennedy in the past couple of years. I have found it incredibly difficult and saddening to watch the people who have helped built our EGFR lung cancer community pass away from the very disease for which we are working so hard to accelerate research.
EGFR Resisters co-founders
Given our physical locations in different regions of the country, the EGFR Resisters co-founders only managed to meet in person for one weekend in Washington, DC. However, our bond grew through weekly phone conversations to discuss how to grow our group and manage our projects.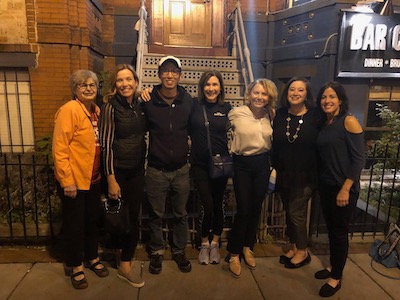 This is a picture of the co-founders from our gathering in Washington, DC in 2018. Left to right: Anita Figueras, Colleen Sturdivant, Allen Lee, Ildiko Medve, Teri Kennedy, Ivy Elkins (myself), Jill Feldman.
We will persist and move forward
The EGFR Resisters group will continue to move forward. We have grown tremendously since our founding in 2017 and now have a membership totaling over 2600 patients and caregivers from more than 75 countries worldwide. We will continue to honor the memories of our co-founders and miss them, and we will carry on through advocating even more strongly and with increased urgency for advances in research and treatments.
For many in the lung cancer community, EGFR is considered a "fortunate" biomarker to have. True, it was the first actionable biomarker discovered in lung cancer and initial targeted therapy treatments made much progress in this subset of non-small cell lung cancer. The third-generation EGFR inhibitor, Tagrisso (osimertinib), was FDA approved in 2015 as a second-line treatment and now is the standard first-line treatment for all diagnosed with metastatic non-small cell lung cancer with EGFR exon 19 or L858R mutations. Recently, Tagrisso has even been approved for adjuvant treatment (after surgery) for resectable EGFR+ lung cancer.
However, those of us living with EGFR+ lung cancer do not have a standard treatment after Tagrisso other than chemotherapy. There is a myriad of potential resistance mechanisms to Tagrisso and a variety of possible trials and treatment methods depending on the mechanism, but few approved protocols or combination therapies. We need more — this is why patients such as our co-founders are passing away much too young every day, leaving devastated family and friends behind.
Continue to advocate for research and treatment advancements
These unmet needs led the EGFR Resisters to partner with LUNGevity.
Foundation to offer patient-driven, patient-funded awards for investigator-led research. In a recent press release, we announced the 2021 recipients of the first EGFR Resisters/LUNGevity Lung Cancer Research Awards to Dr. Christine Lovly of Vanderbilt University Medical Center and Dr. Helena Yu of Memorial Sloan Kettering Cancer Center. Here is the press release: EGFR Resisters and LUNGevity Foundation Partner on Lung Cancer Research Award
There is very limited federal funding available for lung cancer research, so in order for significant developments and improvements to be made, lung cancer relies heavily on funding from nonprofits organizations and other private sources of funding. While our two award projects are specific to EGFR+ lung cancer, we hope that any knowledge and treatments that result from our projects will help other forms of lung cancer as well. Our researchers will be looking at resistance mechanisms such as small cell lung cancer transformation and persister cells that remain after initial targeted therapy treatments, issues that are common to other subsets of lung cancer in addition to EGFR.
This article represents the opinions, thoughts, and experiences of the author; none of this content has been paid for by any advertiser. The LungCancer.net team does not recommend or endorse any products or treatments discussed herein. Learn more about how we maintain editorial integrity
here
.

Community Poll
Do you think singing through your lung cancer diagnosis is therapeutic?