Spotlight: Jim and Kristina Burke
Recently, Kristina Burke reached out to me through our EGFR Resisters website. She told me that her husband Jim was diagnosed with stage IV EGFR positive lung cancer in August 2020 and she was planning to turn an idea she originally had for support into a fundraiser for lung cancer research.
Beginnings of Tag Time Happy Hour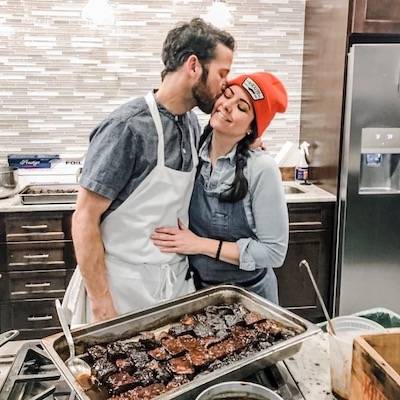 When Jim, an executive chef in Philadelphia, was first diagnosed with stage IV lung cancer that had spread to his bones and brain, Kristina asked friends and family to think of them and "send their best intentions into the universe" between 5-6pm each night, the time when he takes his Tagrisso medication.
According to Kristina, this idea really caught on. She says, "Because he was taking his Tagrisso at this time I jokingly referred to it as 'Tag Time Happy Hour'. Little did I know it would ignite colleagues, friends, and family from near and far to call, text, and create videos of them toasting to Jim and send our way nightly. People even dropped off wine and champagne at our home to keep the Tag Time spirit up! It has fortified my intense belief in human connection and trying to 'do good' even when you are faced with extraordinary circumstances."
A growing awareness movement
But, that's not all. The Burkes have many good friends in the restaurant industry. One of these friends, an executive chef in Santa Monica, offered to host a happy hour at his restaurant and give a percentage of the proceeds back to lung cancer research. Others followed suit with similar offers and plans, and Tag Time Happy Hour really took off! You can follow Team Burke's progress at the Tag Time Happy Hour Instagram — all proceeds are being directly donated to the research projects that were awarded grants through the EGFR Resisters and LUNGevity's 2021 collaboration. At the time this article was written, they had already raised close to $10,000!
Not content however with stopping at individual events, Kristina, who is also "in the midst of [her own] breast cancer battle" and raising two young children, is planning a special fundraising event to take place in Philadelphia and beyond this spring. According to Kristina, the Burkes are "partnering with restaurants, bottle shops, BYOBs, breweries, markets, and more to raise a glass, raise awareness and raise funds for EGFR lung cancer research."
Research is saving lives
If a #TagTimeHappyHour event comes to your area, all are welcome to join and participate. Research is so important for those of us living with lung cancer. As Kristina so aptly states, "the goal of ... research is to transform this diagnosis of lung cancer into a chronic, manageable condition...Because of groundbreaking advancements in genetic treatments, Jim is battling and may I say thriving. However many patients need more and what comes after this treatment is crucial." Please join me in wishing the Burkes all the best and supporting them in their endeavors!
Are you looking for a space to connect with other caregivers?
This article represents the opinions, thoughts, and experiences of the author; none of this content has been paid for by any advertiser. The LungCancer.net team does not recommend or endorse any products or treatments discussed herein. Learn more about how we maintain editorial integrity
here
.
Poll
Are you satisfied with your care team?