Meet Doug Wilson, Researcher at Blueprint Medicines
I've met many cancer researchers in my work as an advocate and I wish more patients had the opportunity to get to know these people who work behind the scenes in academic research labs and biopharma companies. Research is done by real people who are committed to finding treatments that will help real patients. And they all have their own personal stories. It's why I am starting a series of stories about researchers.
My first story is about Doug Wilson. When I met him, I was struck by how excited he was to share his role in working on a team at Blueprint Medicines, a biotech company in Cambridge, MA.
Meet Doug Wilson.
Why did you become a researcher?
I was always drawn to chemistry, as a general discipline, ever since I was in high school. As I went through the process of getting my bachelor's degree in chemistry, I knew that I wanted to specifically pursue a career that involved organic chemistry, one of the main fields of chemistry – I truly enjoyed learning about it, and most of all, actually doing it in the laboratory. When I graduated, it made a ton of sense for me to work as a medicinal chemist because I would be able to utilize my organic chemistry knowledge every day.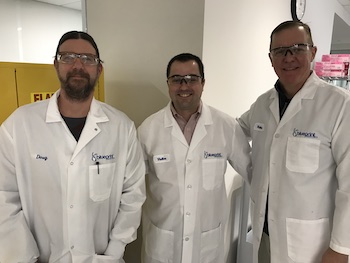 A medicinal chemist's role in drug development is to design and create new molecules and analyze in the lab their potential to treat diseases. In my experience, there's much more to the job than making compounds in the lab, it's also how to tune molecules to be the best they can be in terms of helping to treat diseases. In my work, I've been able to learn a lot about how to approach the drug discovery challenges that we face every day. I feel very lucky to be able to do what I love to do every day and have it potentially contribute to a drug that can improve patients' lives.
Do you work on lung cancer treatment research?
I was one of the lab-based team members on the pralsetinib (formerly known as BLU-667) program at Blueprint Medicines. This experimental medicine precisely targets a protein called RET, which is activated by genetic changes in a subset of people with non-small cell lung cancer and other tumor types. This drug candidate is an example of an emerging field called precision therapy, where researchers identify genetic changes that cause tumors to grow and address the driver of the disease with a targeted medicine.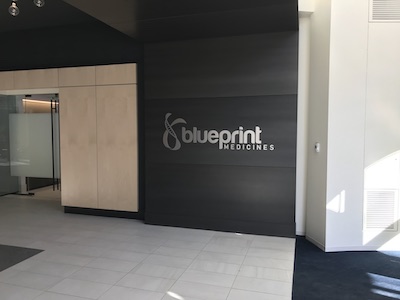 I had completed another oncology project when the discovery phase was over and joined the pralsetinib team about a third of the way through the discovery process. I worked in the lab making drug analogs for roughly two years, helping the team to improve the potency (ability to inhibit the RET disease driver) and other properties of our molecules. Toward the end of the process, our research indicated that a compound with the structure of pralsetinib had a good chance to be a potential drug that was highly targeted against RET. With the help of my chemistry colleagues, I ended up making pralsetinib for the first time. It's now being evaluated in late-stage clinical studies.
What are you proud to have worked on?
I am proud to have worked in some capacity on 3 different active clinical stage drug candidates while at Blueprint Medicines – it's not often that a company is able to successfully bring as many potentially life-changing treatments to the clinic as we have (and, in a very short period of time).
If you spoke directly with a lung cancer patient what would you tell them?
I would tell them to hang in there – there are researchers out there looking at ways to treat many sub-types of cancer and that there is hope that the right clinical trial will open for them.
I would also tell them that they motivate me and my colleagues to discover new treatments. We recently had a patient visit us at Blueprint Medicines, and she and her husband told us about her journey since her diagnosis, and it was clear that they were very engaged in the process of looking for trials to fit her disease. It is a very rewarding experience for us at Blueprint to hear directly from patients. Every day, I hope the work we do will ultimately benefit people with lung cancer.
Who inspires you?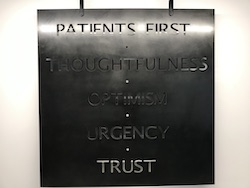 I feel inspired by cancer patients and cancer survivors – my father was diagnosed with head and neck cancer nearly 4 years ago and he went through a very rough treatment over the course of several months that was brutal, but he remained strong and fought against it hard. He's in complete remission and living a normal life now. So to have that experience of seeing him go through that inspired me to keep doing all I can to help bring therapies to patients, regardless of what type of cancer target I am working on.
My mission is to do whatever I can to help discover drugs to help cancer patients live longer and more comfortable lives, period.
When you're not in the lab, how do you spend your time?
I like reading, running, and spending time with my wife and dog! Most people don't know that I play the drums, and have been in a band for many years.
This article represents the opinions, thoughts, and experiences of the author; none of this content has been paid for by any advertiser. The LungCancer.net team does not recommend or endorse any products or treatments discussed herein. Learn more about how we maintain editorial integrity
here
.

Community Poll
Do you enjoy the holiday season?