Lung Cancer, Inside & Out
Lung cancer is one of the most common cancer diagnoses, yet many aspects of the lung cancer patient journey remain misunderstood. In order to better understand both the physical and emotional aspects of life with lung cancer, we conducted a survey of people living with lung cancer and their caregivers. Over 800 people completed the survey and shared their perspectives.
Dealing with lung cancer & other conditions
In addition to a wide range of emotions, lung cancer is also accompanied by a number of doctor visits, scans, lab tests, and other appointments. A large percentage of those who took our survey are living with lung cancer and other health conditions. More than 1 in 4 of respondents have been diagnosed with another type of cancer, in addition to lung cancer.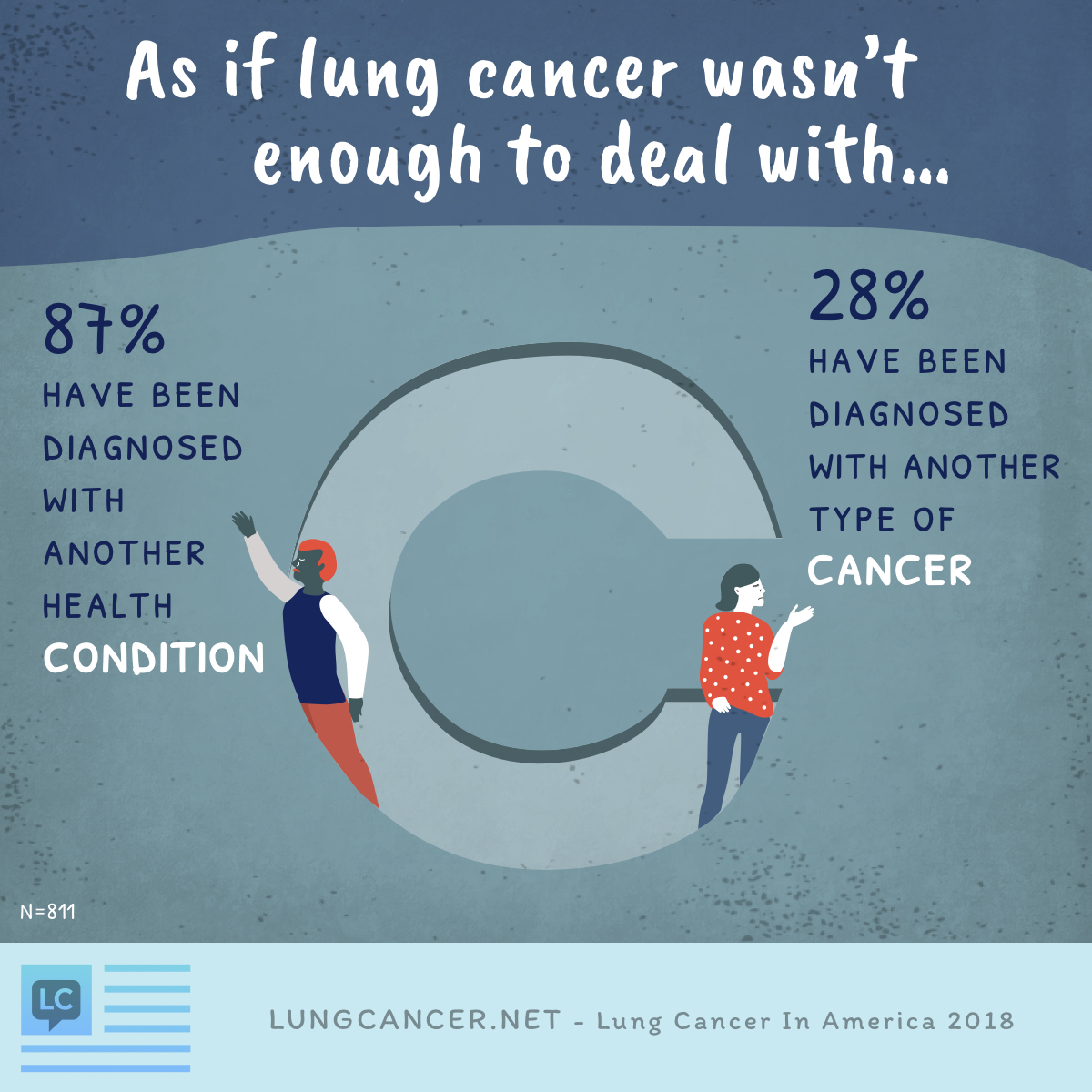 Treatment side effects & difficulties
Nearly all survey-takers who have had treatment experienced some type of side effects. Nearly 8 in 10 experienced fatigue and just over half had hair loss. Other commonly experienced side effects included appetite loss, constipation, nausea, vomiting, pain, breathing problems, and diarrhea.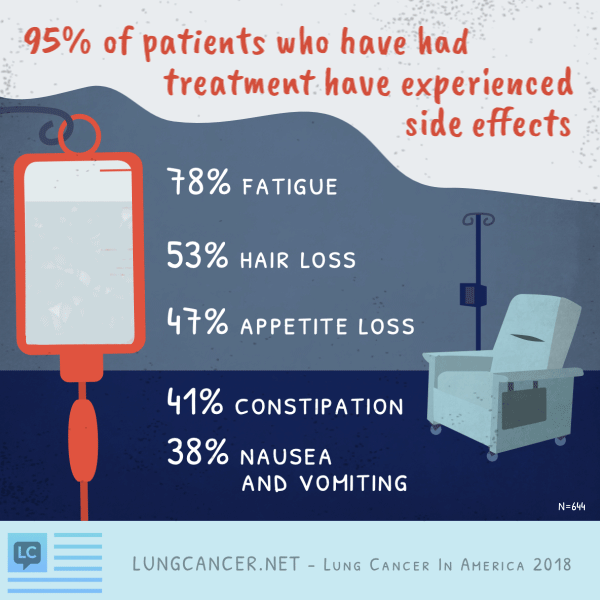 The anxiety and anticipation of scans
Periodic scans monitor how treatment is working, if cancer is growing, or if people remain cancer-free or NED (no evidence of disease). It's no wonder that scans may bring anxiety for some! Of those who have regular scans, the majority feel an increase in anxiety around the time of a scan. Nearly 1 in 4 feel no change in their anxiety around the time of a scan, and 3% feel less anxious than normal.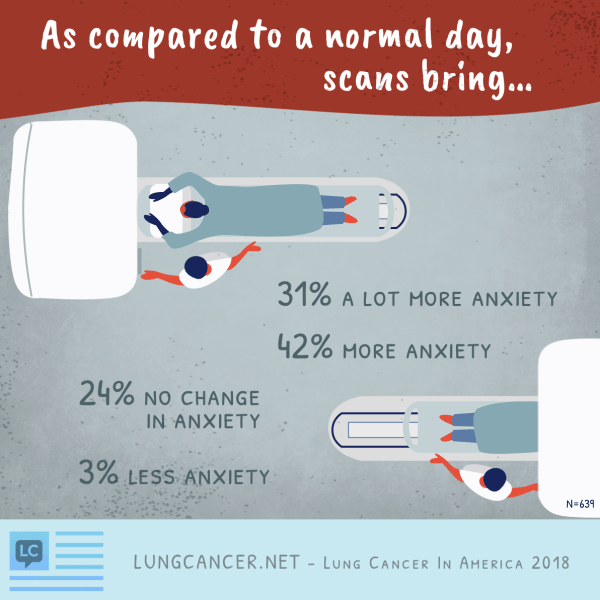 Perspectives can change after lung cancer
Community members often note that their lives have changed in a variety of ways since lung cancer has entered their life. More than 40% of patients who took our survey note that their outlook on life has become more positive since their diagnosis. Not everyone feels the positive shift, however. One third feel their outlook on life has become more negative and nearly one quarter haven't seen a change.
Similar to outlook, half of patient respondents feel they have become more faithful or spiritual, with a small percentage noting their faith or spirituality has been negatively impacted. 38% saw no change and 8% do not consider themselves faithful or spiritual. Regardless of if or how your outlook or faith has been impacted, there are others in the community who feel the same.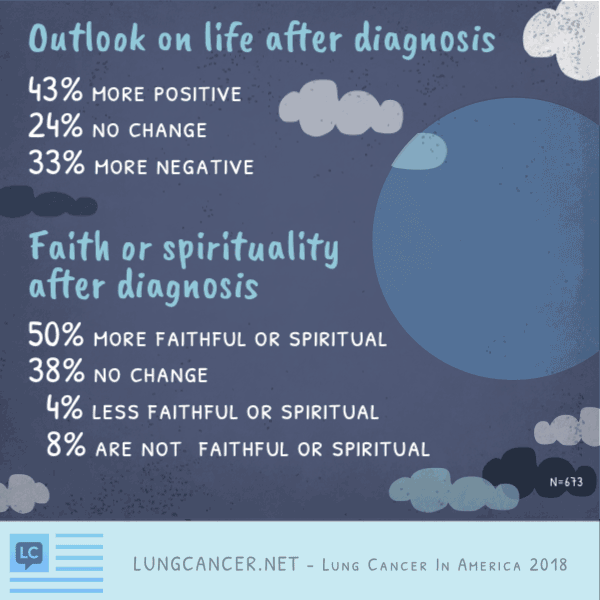 Differences in quality of life
Lung cancer impacts both physical and emotional health. It can be hard to measure lung cancer's true impact on quality of life, since individual definitions of quality of life may differ dramatically. When asked how content they feel with their current quality of life, survey respondents indicated a broad range of satisfaction.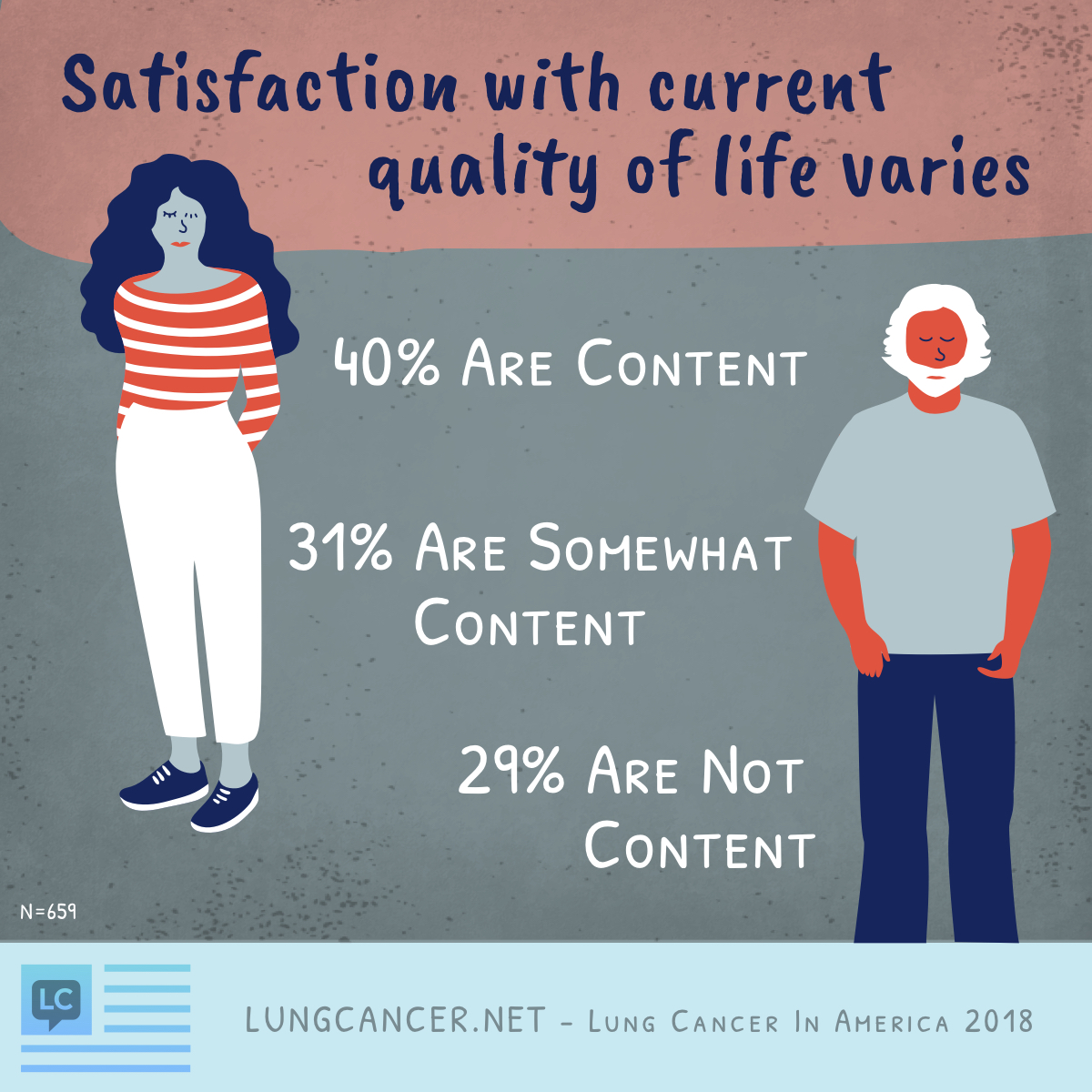 Caregivers face ups and downs
A diagnosis of lung cancer effects loved ones and caregivers, too. The most common types of care and support caregivers reported providing included emotional support, help with transportation, open communication, and assistance with household duties.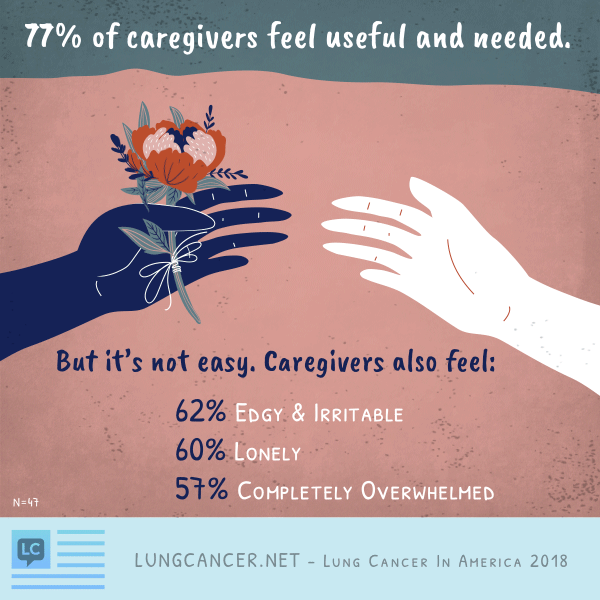 The Lung Cancer in America 2018 survey was conducted online from January through April of 2017. Of the 811 people who completed the survey, 673 were people who have been diagnosed with lung cancer and 138 were caregivers of people with lung cancer.

Community Poll
Which do you most want to learn more about on LungCancer.net?